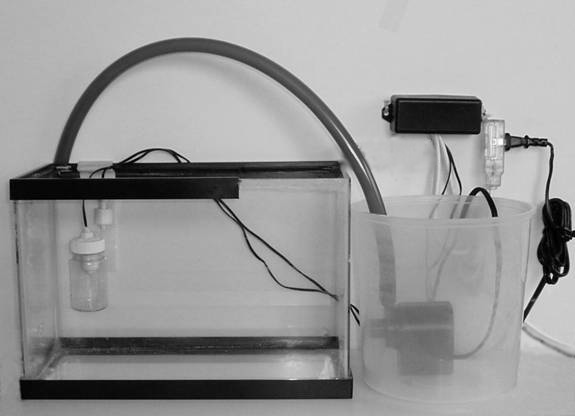 Click on the links below to see the instructions for our two Top-it-Off Kits. These kits provide all of the components needed to build a top-off system and show you step-by-step how to build one.
You can purchase one of our kits or read over the instructions and create your own custom system using components from our auto top-off components and float switches pages.
Top-it-Off Kit Premium assembly instructions
Top-it-Off Kit Deluxe assembly instructions (and Supplement)
Description of our Top-it-Off Kit Premium product
Description of out Top-it-Off Kit Deluxe product
The kits are similar – the primary advantage of the Deluxe kit is that it offers an extra float switch. This can be used to protect the pump in your reservoir from a run-dry condition if the reservoir should become empty.
Components used in our kits or to build a top-off system of your own design:
i-float float switches
9″ Mold-a-Holder
Slosh & Snail Guard
12 volt DPDT relay
package of crimp caps
GFCI extension cord
12V transformer
large project box
pump (we sell the Maxi-Jet 600 and the Aqua Lifter)
tubing (1/2″ ID – fits Maxi-Jet 600 only)
Tools required:
Hobby knife
Drill (optional)
Scissors
Pliers
PLEASE NOTE: Building a top-off system involves household 120 volt electricity, which, if mishandled, can cause shock or death by electrocution. Do not attempt this project if you are not comfortable working with electricity. Proceed with this project at your own risk.
No system is 100% reliable. Many of our customers have assembled a top-off system using our guides with excellent success, but float switches, relays and DIY set-ups can sometimes fail (as can all mechanical devices and even professionally manufactured solutions). Use common sense when sizing your reservoir and using and maintaining your system. You should be able to design a system that will top-off your sump for 3-4 days and never cause an overflow even if some part of the system has been assembled incorrectly or fails.
Never allow the top of a float switch (where the wires come out of the stem) to be submerged in water. The epoxy potting is not designed to be water proof. Water will eventually penetrate the switch and cause a failure. If you must mount a float switch where the top will be submerged, see this product.
Also, check out our new webpage for our 12 volt relays: 12VoltRelay.net.